one day sunrise crater rim Rinjani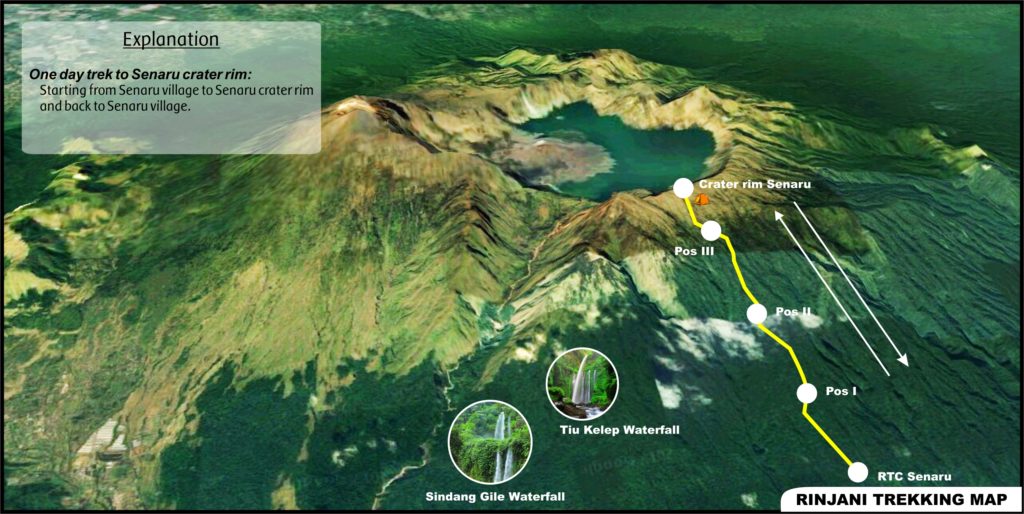 One day sunrise craterim Rinjani
This program is perfect for you who do not have enough time and budget for the normal climbing program, or for you who are already in Lombok, Bali, or other places in Indonesia but without the plan to climb this most beautiful mountain in Indonesia, and it is available every day and sometimes even when an eruption occurs, you can still do this type of climbing.
The advantage of this program is:
Save time
Save money
Completed in 1 day
Can visit Senaru waterfall on the same day
Can directly witness the most beautiful mountains in Indonesia
One day track to crater Rim senaru (sunrise), this package is really a diamond and have many enthusiast. This type of tour is ordered almost every day in our company, because in addition to time-saving and cost-effective, this tour package also become its own pride for the tracker for climbing the Rinjani mountain in one day trip. We will also give an award in the form of certificate as a proof that you have successfully reached 2.641 mdpl (on request).
Based on the experience during managing this program, we grouped this program into 4 parts:
Stay one night at senaru hotel before climbing. We will provide a hotel for one night in senaru village before the climbing, you can come early to senaru village with our driver who will pick you up at the airport, Bangsal port, Lembar port, Kodek bay, Senggigi and other places in Lombok. Upon arrival at Senaru village, you can visit Senaru waterfall, traditional house, sunset at the beach, dinner at our house just like a family, program explanation and program payment and transfer to the hotel for rest before climbing so you feel refreshed for the climbing.
Stay in Senaru (my house/our office). Upon your arrival in Senaru village, you will get 1 guide who will accompany you to spend time in Senaru, visit the waterfall, traditional house, sunset at the beach or historical places such as Bayan Village like ancient mosque, etc. Then dinner at our house just like a family, program explanation and program payment and transfer to the hotel for rest before climbing so you feel refreshed for the climbing.
Pick up at Senggigi hotel, our driver will pick you up at the hotel where you stay in Senggigi around 23:30 at night or earlier depending on request. Upon arrival in Senaru village, your guide is ready with all the equipment you need for the climbing. You can visit the waterfall and you can do other things after the climbing before return to the next destination (Senggigi).
Meet at Senaru village, we will also gladly meet you in our office or we come to your hotel in Senaru village to explain things etc.
The price for one day sunrise crater rim Mt Rinjani Price min 2 people and more than 2 get special price (valid until December 2017)
$140/person on deluxe private trek service
$130/person on standard private trek service
$120/person without accommodation in senaru ( staying in my house)
$110/person without accommodation in senaru ( pick up from senggigi hotel 23:30)
Normally we will pick you up at any place in lombok and Transfer to the senaru, if you staying in senru the accommodation is include as well the pick up service and transfer to your next destination after the trek.
Deluxe service will including Hot Shower,Ac,Wi-Fi Facilities in the hotel for overnight before trek but standard service you will get standard room without hot shower.
Here the hotel options as below:
Deluxe service hotel for:
Pondok Senaru( Luxury Room, Superior Room & Superior Room)
Rinjani Light House
Pondok Indah(Superior Room)
Lembah Rinjani(Superior Room)
Sinar rinjani(Superior Room)
‪Standard Plus Service Hotel For:
Pondok Indah
Achita Bayan Home Stay
Gunung baru Homestay
Sinar Rinjani(Standard Room)
Rinjani Trails homestay
Horizon Villa Senaru
What is included:
Transport in and out
Welcome drinks
Accommodation one night at Senaru Hotel (day before or after hike)
Certificates of Achievement Mount Rinjani
Hero Guide
Mount Rinjani National Park entrance fee (Rp. 300,000/trekker)
Insurance (Rp. 10.000/trekker)
2 liters of mineral water
Meals and drinks during the trip
ENVIRONMENT HYGIENE CARE ( BRING TRASH DOWN )
Trekking poles
Bonus :
trip to sendag gile waterfall
trip to Tiu Kelep waterfall
trip to traditional house senaru
trip to coffee plantation
Dinner in hotel or in my house like family
Note!!!
trip to waterfall (sendang gile and tiukelep) also trip to tradional house Senaru and coffee plantation if you come 7 hours before sunset but if you come 1 or 2 hours before sunset you can only choose 1 trip, waterfall or traditional house. ( day you arrive in senaru before trek)
Summary Travel Itinerary
Day 0
(day you arrive in Lombok /Senaru)
pick up from any place in Lombok
Visit Senaru waterfalls (sindang gile and Tiu Kelep).
visit Traditional house Senaru
sunset in harbor
Dinner in hotel or in my house Like family (18:30 pic up from hotel to my house)
If you stay in Senggigi we can pick up at 23:30 (request)
Day 1 ( day you starting trek)
00:30/ 01:00 breakfast and pick up from hotel to senaru village( starting point)
00,00 / 01:30 – start trek from Seanaru village
06,00 – arrive in senaru crater rim before sunrise
80,00 – get breakfast in senaru crater rim while enjoying the sunrise
09, 30 – go down to senaru village
14, 30 – arrive in senaru and
15,00 – visit to senaru waterfalls
17,00 – Arrive at senaru village, pick up to our office for take shower, enjoy young coconut and fruits salad. Transport direct to your next destination (Lombok Area).
Recommended Item to bring
Bellow are list of items you should carry during the trek program. All items to be packed in a small backpack no more than 5 kg.
Small headlamp with spare batteries. (Only If You Hike to the Summit)
1 pair champ shoes/trek shoes are good.
Toiletries.
Personal medications
Sun block/lotion, hat/cap, sun glasses.
Spray for muscle/balm.
Insect repellent.
Camera, Handy Cam and batteries (Manual or Digital).
Small towel.
1-2 cotton T-shirts
Long trek pants/wind proof.
Windproof Jacket.
Warmest jacket
Trek stick/leaky (optional).
Sandals (optional).
Swimming Suite (x).
Binocular (optional).
Extra trail snack (we supply fruits, Menu)
Garbage Plastic can.
BALI TO LOMBOK
To go to Lombok when you come from Bali island, we recommend you to use the fast boat to Lombok with departure schedule at 9:00 am from Bali and will be arrived around 11:00 am in Bangsal port or Kodek Bay, and you will arrive in Senaru village around 12:30 or 13:00, so you will receive bonus we offered. Additionally, you will save time compared to using a ferry which can take 4-5 hours the from Lembar to Senaru can take 3-4 hours, or flight from Bali to Lombok which you will arrive around 11:25, while from the airport to Senaru will take about 3-4 hours.
To climb the Rinjani mountain, we recommend you to arrive the day before because all departure for Rinjani mountain climbing is started in the morning. Additionally, you are fresher and not in a hurry to prepare any equipment you forgot, and if you climb in the morning from the Sembalun village, it will not felt too hot in the vast meadow.