Lake & Hot springs 3D/2N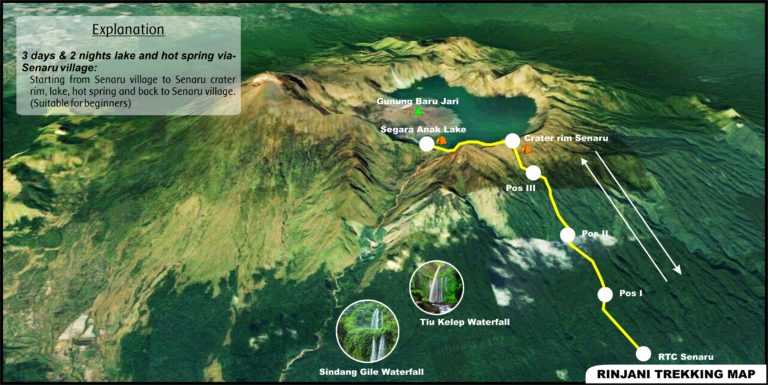 3 days 2 night lake & hot spring (from $ 150)
Mt Rinjani trekking is the most trekkers' program choice and suitable for beginners and family. You'll spend 3 days and 2 nights starting from Senaru village, senaru crater, lake & hot spring (4 day/3 nights total)
OVERVIEW
Want to have experience in Rinjani Mountain without having to climb a very difficult summit. This program can be your choice by camping on the edge of Senaru crater with full view of the summit lake and the Baru Jari Mountain also half of the island of Lombok and the three Gilis you can see from this place. One night camp on the edge of the crater you will be able to watch the sunrise in the morning between the summits of Mount Rinjani and Mount Sangkareang, and watch the sunset at the tip of the majestic mountains on the island of Bali. The route that is used is the Senaru route that is through the trees (jungle) the journey will be starting from a height of 600 m to reach to a height of 2,641 m. The adventure  is perfect for families and honeymoon.
The climbing covered the following:
Three days and 2 nights camping on the mountain and one night at the hotel on the day of your arrival.
During the Trek you'll be guided by local, professional and  English speaking  guides.
Porters who will bring all camping gear, food and drink.
Welcome drink and Dinner at our place on the day you arrive.
National park fee
Head lights, trekking pole, chairs and even dinner table, so you do not have to bother to buy or rent and you just bring your personal equipment.
All transfers (pick up in and out after the tracks on the island of Lombok)
Even bonuses to waterfalls in senaru village
The trekking is the most trekkers program choice and suitable for beginners, and family or group. You will spend 3 days and 2 nights for mount rinjani trekking (4 days of total).
---