Mount Rinjani Trekking Summit 3d/2n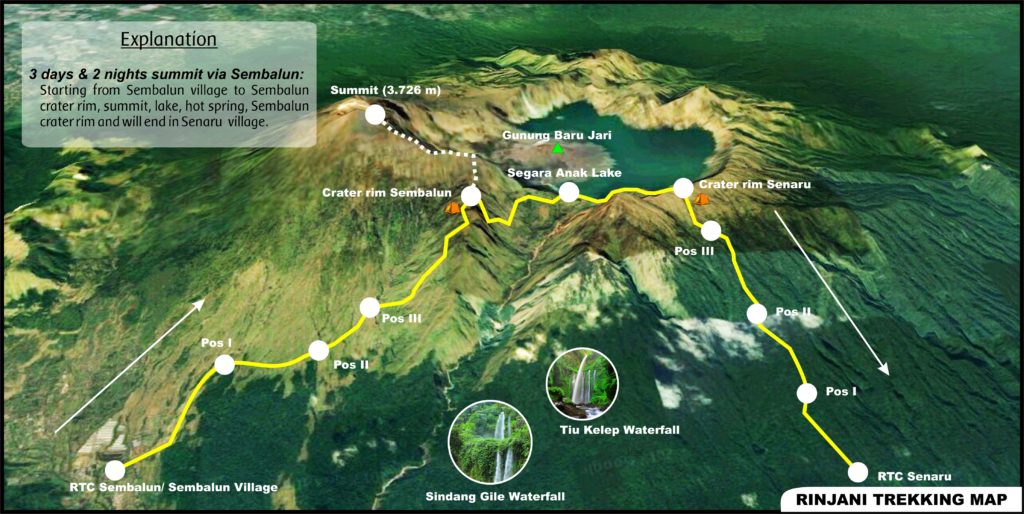 3 days and 2 nights summit (from $ 150)
You'll spend three days and two nights for mount Rinjani trekking Starting from sembaln village to crater rim sembalun, summit, lake , hot spring, senaru crater rim and will end in senaru village,
The best seller
OVERVIEW
The trek will start from the Sembalun village with an altitude of 1100 m and will also take place in the Sembalun village. This route will be pampered with a vast landscape, a little long path and a bit hot during crossing the meadow, to get to the edge of the crater with the altitude of 2600 m you will need a lot of stamina because you have to climb five hills which are very high and challenging. On the second day is the struggle to reach the summit with a height of 3726m, starting from 2 a.m in order to get the sun rise over the summit,
In addition to the summit you will also be visiting and bathing in the lake and hot spring. You will also be camping in the second crater which landscape is incredible and we make sure it is amazing for you, and you will descend the tropical rainforest as the last day of the Rinjani Mountain adventure.
of course this is very impressive because you can already conquer the second highest mountain in Indonesia, and you capture your moment by taking pictures.
The climbing covered the following:
Three days and two nights camping on the mountain and one night at the hotel on the day of your arrival (4 days of total).
During the Trek you'll be guided by local, professional and English speaking guides.
Porters who will bring all camping gear, food and drink.
Welcome drink and Dinner at our place on the day you arrive.
National park fee.
Head lights, trekking pole, chairs and even dinner table, so you do not have to bother to buy or rent and you just bring your personal equipment.
All transfers (pick up in and out after the traks on the island of Lombok)
Even bonuses to waterfalls and senaru traditional
The trek is quite difficult, so physical fitness and prior experience is very important, and suitable for those of you who have a short time and want to reach the summit and camp in the Rinjani Mountain.