Rinjani Trekking Summit 2d/1n
You will spend 2 days and 1 night for Mt. Rinjani trekking starting from Sembalun village to summit and will end at Sembalun village.
---
Arrival day : The day you arrive at Lombok Airport or one of Lombok ports as Lembar/Bangsal, Teluk Kodek or from any main object tourist in Senggigi, Kuta Lombok, 3 (Gilis Trawangan, Meno, Air), you will be picked up by our representative staff, you are then transferred in Senaru hotel. After arriving in Senaru, you will meet us and be treated by welcoming drinks. You can meet your trekking guide and porters who will then brief and explain the trekking procedures and prepare your trips. Arriving at the latest 1 hour before sunset, then you can go to see the Sindang Gile and Tiu Kelap Waterfall the day before you start trekking.
Note: you can arrive at the same day of trekking day. But we recommend you to come the day before trekking and spend the night so there will be no delays.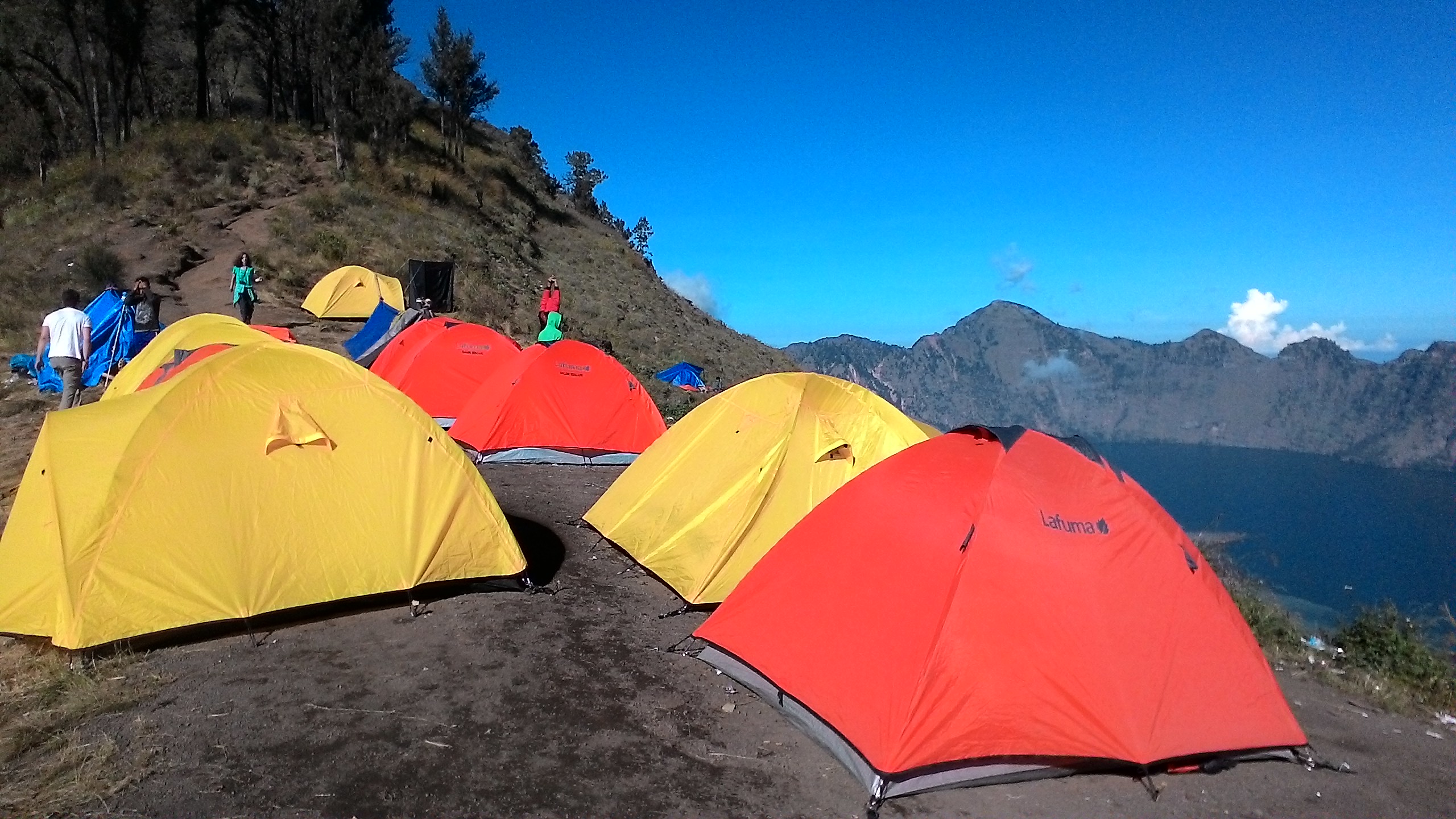 ---
DAY 1
---
: SENARU VILLAGE- SEMBALUN VILLAGE (1.150.M) – SEMBALUN CRATER RIM (2.639.M)
---
Wake up at 6.00am and breakfast at 6.30-40. Be ready to go to Sembalun village with our special mountain car. The trip to Sembalun village will spend 45minutes to hour. We will arrive at approximately 8.00 am. The registration in Rinjani Information Center (RIC) is 1051 m and Post 1 (Monitoring Post) is1300 m which will take 2 hours. We take a rest for 5/10 minutes at Post 1 (Monitoring Post,) and then continue to Post 2 (Tengengean) 1500 m for about 1 hour. We take short break for 5 to 10 minutes at Post 2 ( Tengengean ) and then continue our journey to Post 3 (Pada Balong ) 1800 m for approximately 1 hour. We take a rest for 2 hours at Post 3, the guide and porters then prepare for lunch, and a hot drink (tea, coffee, hot chocolate or lemon tea). After having a lunch and rest, we continue to Sembalun Crater Rim (Pelawangan Sembalun) 2639M, for 3 hours including a prolonged steep climb. Spending the night by camping at Sembalun Crater Rim, then we can enjoy the awesome views there as sunset, and sunrise for the next morning , Segara Anak lake, Sembalun village, the summit of mount Rinjani half of north Lombok.
---
DAY 2
---
: SEMBALUN CRATER RIM (2,639M) – SUMMIT/TOP 3,726M – SEMBALUN VILLAGE (1.150.M)
We will wake up at 02.30 am if we don't miss the beautiful sunrise and have a light breakfast. Start the trek to heading to the Rinjani summit (3672 m) at 3.00 am for approximately 3 hours and 30 minutes. The first stage is a moderate climb for 2 hours, while the second stage is a fairly easy but long trek. The last hour is very steep and difficult (there are many loose stones, and as you take two steps forward, you will slip one step back). From the Summit of Mount Rinjani, you can see all of Lombok island, Bali, Mt. Tambora in Sumbawa and Segara Anak Lake. After sunrise we will go down to the Sembalun Crater Rim and have breakfast. After breakfast and a rest, we will continue to go down to Sembalun village for 4-5 hours, have some lunch in Post 3 or 2 and arrive in Sembalun village (1,150m) at noon. The car is waiting to bring us to Senaru village, take your luggage and bring us to the next destination (Gilis, Senggigi or Mataram).
Summary Travel Itinerary
Day 0
(day you arrive in Lombok /Senaru)
pick up from any place in Lombok
Visit Senaru waterfalls (sindang gile and Tiu Kelep).
visit Traditional house Senaru
sunset in harbor
Dinner in hotel or in my house Like family (19:30 pic up from hotel to my house)
Day 1
06:00-06:30 Breakfast in the hotel
07:00-07:30 Transfer to Sembalun Village (45 minutes)
08:30 Check in at Rinjani National Park Registration Office, Trekking Begin.
12:00 Lunch at Postt II
17:00 Arrive at Crater Rim Sembalun (RIM II), dinner, camp, and overnight.
Day 2
02:00 Climb the Rinjani Summit.
05:30 Arrive at Summit (Before sunrise). Take Photos (+- 1 Hour)
07:00 Back to Camp area (RIM II), Breakfast.
10:00 Start descend back down to Sembalun Village. Lunch serve at Post II or I
15:00 Arrive at Senaru Village, pick up to our office for take shower, enjoy young coconut and fruits salad. Transport direct to your next destination (Lombok Area).
Price min 2 people and more than 2 get special price (valid until December 2017)
The Price $ 215/person Deluxe private service
The price $ 205/person Standard private service
Deluxe service will including hot shower, AC, Wi-Fi, Facilities in Hotel for overnight before trek
Standard service will get standard room without hot shower
Bonus :
trip to Sendag Gile waterfall
trip to Tiu Kelep waterfall
trip to traditional house Senaru
trip to coffee plantation
trip to sunset in harbor
Dinner (day you arrive in Lombok) in hotel or my house (19:30 pick up from hotel to my house)
trekking poles (2/person)
Note!!! trip to waterfall (Sendang Gile and tiukelep) also trip to traditional house Senaru and coffee plantation if you come 7 hours before sunset ( day 0) but if you come 1 or 3 hours before sunset you can only choose 1 trip, waterfall or traditional house.
Price is Included:
Welcome drinks ( after trek with young coconut + fruits)
Pick up and transfers in and out (driver speaking English)
A night accommodation in Senaru ( 2 people 1 room)
Trekking guide Porters who will carry the cooking gear and camping equipment
Foods and drinking water on the trek,
Tent ( 3-4 people dimension[W] 2,20 x [L] 3,10)
toilet tent
sleeping bags good quality (50 x 210),
mattress(6 cm x 200 )
Mountain chair
Entrance fee for the national park IDR 300.000/ trekker ( July – December 2017)
ENVIRONMENT HYGIENE CARE ( BRING TRASH DOWN )
Insurance Rp 10.000/person
Rain coat
certificate
Price is excluded :
Head lamp /hand torch
Trekking shoes, long pants, gloves
Airline ticket
Extra porter $ 21/day
Travel insurance
Tip for porters and Guide
Small bag / daily pack
Deluxe service will including Hot Shower, Ac, Wi-Fi Facilities in the hotel for overnight before trek but standard service you will get standard room without hot shower.
Here the hotel options Or you can request other Hotel in senaru :
Deluxe private service hotel for:
Pondok Senaru (Superior Room)+$10/room
Rinjani Light House
Pondok Indah (Superior Room)
Sinar Rinjani (Superior Room)
Anak Rinjani ( Superior Room)
Pondok Guru Bakti (Superior Room)
Bale Kayuk Homstay ( Superior Room)
Standard Private Service Hotel For:
Pondok Indah
Achita Bayan Home Stay (Standard Room)
Gunung baru Homestay
Sinar Rinjani (Standard Room)
Rinjani Trails homestay
Horizon Villa Senaru
Ank Rinjani (Standard Room)
pondok guru Bakti (Standard Room)
Extra porter and your luggage
If you need extra porters to carry your personal stuffs, they are available at extra cost $ 21 USD/ porter /day . You are advised to travel as light as it could be, the rest of your luggage can be stored at our office and get them back after trek.
Recommended Item to bring
Bellow are list of items you should carry during the trek program. All items to be packed in a small backpack no more than 5 kg.
Small headlamp with spare batteries. (Only If You Hike to the Summit)
1 pair champ shoes/trek shoes are good.
Toiletries.
Personal medications
Sun block/lotion, hat/cap, sun glasses.
Spray for muscle/balm.
Insect repellent.
Camera, Handy Cam and batteries (Manual or Digital).
Small towel.
2-4 cotton T-shirts
Long trek pants/wind proof.
Windproof Jacket.
Warmest jacket
2 pcs. of shorts.
Trek stick/leaky (optional).
Sandals (optional).
Swimming Suite (x).
Binocular (optional).
Extra trail snack (we supply fruits, Menu)
Garbage Plastic can.
The differences between two routes are listed below:
Senaru
A lot of shaded area for first day
Shorter but steeper tracks
Shorter climbing down (3211 meter)
Less popular than Sembalun track
Begin at lower altitude (601 meter)
Cannot arrive at the summit in two days
Lower human traffic
Sembalun
Begin at higher altitude (1156 meter)
Lower climbing up in total (3211 meter)
Cooler weather at the beginning
Arrive at the summit in two days
Less shaded area, mostly savannah
Higher human traffic
If you have questions please contact Us and what the differences of Our services Here Food and drink during your trek Here