Rinjani Trekking Summit 2d/1n
You will spend 2 days and 1 night for Mt. Rinjani trekking starting from Sembalun village to summit and will end at Sembalun village.
---
Arrival day : The day you arrive at Lombok Airport or one of Lombok ports as Lembar/Bangsal, Teluk Kodek or from any main object tourist in Senggigi, Kuta Lombok, 3 (Gilis Trawangan, Meno, Air), you will be picked up by our representative staff, you are then transferred in Senaru hotel. After arriving in Senaru, you will meet us and be treated by welcoming drinks. You can meet your trekking guide and porters who will then brief and explain the trekking procedures and prepare your trips. Arriving at the latest 1 hour before sunset, then you can go to see the Sindang Gile and Tiu Kelap Waterfall the day before you start trekking.
Note: you can arrive at the same day of trekking day. But we recommend you to come the day before trekking and spend the night so there will be no delays.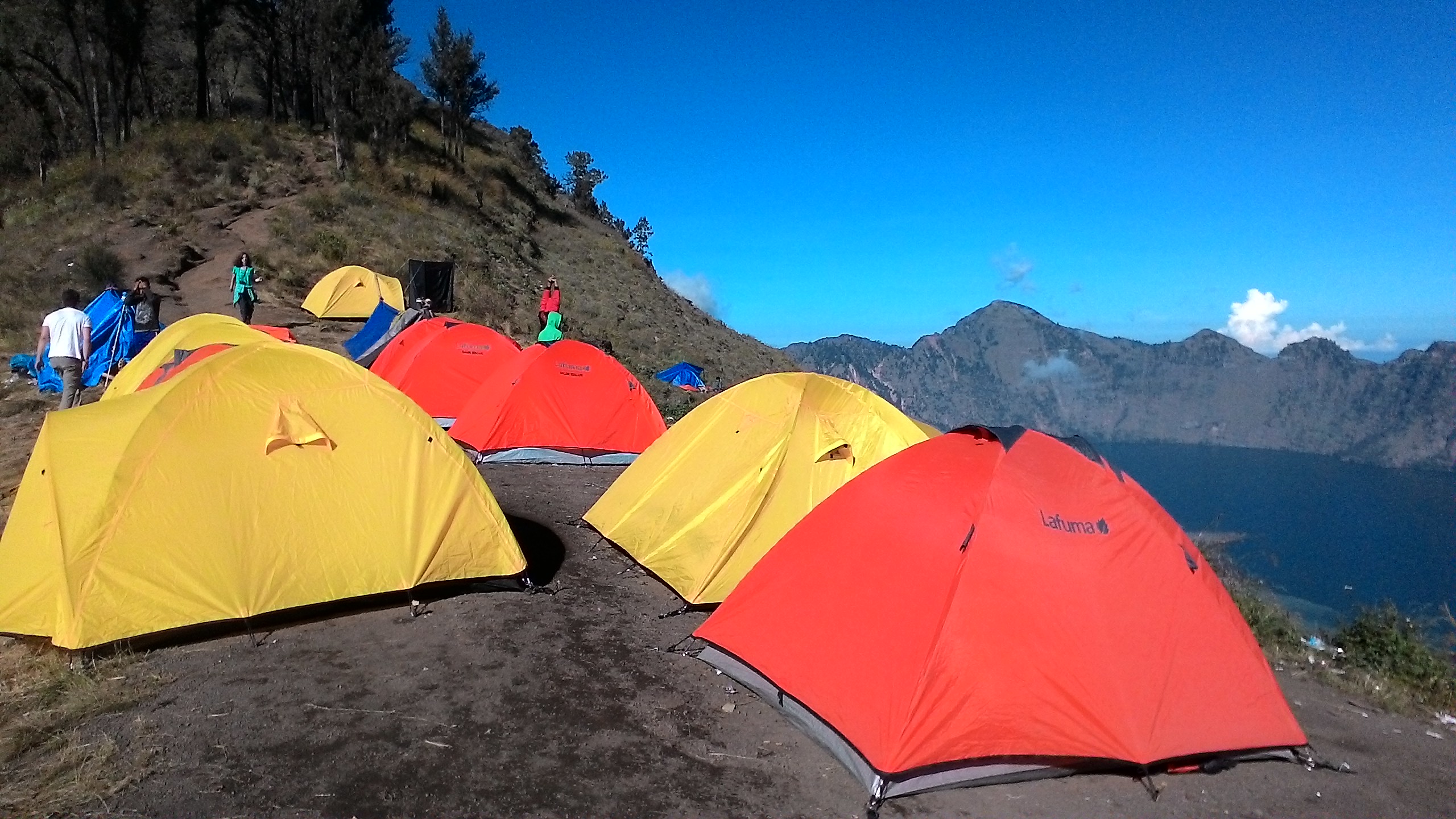 ---
DAY 1
---
: SENARU VILLAGE- SEMBALUN VILLAGE (1.150.M) – SEMBALUN CRATER RIM (2.639.M)
---
Wake up at 6.00am and breakfast at 6.30-40. Be ready to go to Sembalun village with our special mountain car. The trip to Sembalun village will spend 45minutes to hour. We will arrive at approximately 8.00 am. The registration in Rinjani Information Center (RIC) is 1051 m and Post 1 (Monitoring Post) is1300 m which will take 2 hours. We take a rest for 5/10 minutes at Post 1 (Monitoring Post,) and then continue to Post 2 (Tengengean) 1500 m for about 1 hour. We take short break for 5 to 10 minutes at Post 2 ( Tengengean ) and then continue our journey to Post 3 (Pada Balong ) 1800 m for approximately 1 hour. We take a rest for 2 hours at Post 3, the guide and porters then prepare for lunch, and a hot drink (tea, coffee, hot chocolate or lemon tea). After having a lunch and rest, we continue to Sembalun Crater Rim (Pelawangan Sembalun) 2639M, for 3 hours including a prolonged steep climb. Spending the night by camping at Sembalun Crater Rim, then we can enjoy the awesome views there as sunset, and sunrise for the next morning , Segara Anak lake, Sembalun village, the summit of mount Rinjani half of north Lombok.
---
DAY 2
---
: SEMBALUN CRATER RIM (2,639M) – SUMMIT/TOP 3,726M – SEMBALUN VILLAGE (1.150.M)
We will wake up at 02.30 am if we don't miss the beautiful sunrise and have a light breakfast. Start the trek to heading to the Rinjani summit (3672 m) at 3.00 am for approximately 3 hours and 30 minutes. The first stage is a moderate climb for 2 hours, while the second stage is a fairly easy but long trek. The last hour is very steep and difficult (there are many loose stones, and as you take two steps forward, you will slip one step back). From the Summit of Mount Rinjani, you can see all of Lombok island, Bali, Mt. Tambora in Sumbawa and Segara Anak Lake. After sunrise we will go down to the Sembalun Crater Rim and have breakfast. After breakfast and a rest, we will continue to go down to Sembalun village for 4-5 hours, have some lunch in Post 3 or 2 and arrive in Sembalun village (1,150m) at noon. The car is waiting to bring us to Senaru village, take your luggage and bring us to the next destination (Gilis, Senggigi or Mataram).
If you have questions please contact Us and what the differences of Our services Here Food and drink during your trek Here
What is included:
Transport in and out
Welcome drinks and meals
Accommodation one night at Senaru Hotel (day before hike)
Certificates of Achievement Mount Rinjani
Guides and porters
Equipment (Sleeping bags, pillows, tents, toilet tent, mattress etc)
Insurance
Mount Rinjani National Park entrance fee (Rp.150.000/person)
Certificate
3 liters of mineral water / day / pax
Meals and drinks during the trip (breakfast, lunch, dinner and snacks
Waterfall guide and ticket
---
What is Excluded :
Head lamp/hand torch
Trekking shoes, rain jacket, long pants, gloves
Airline ticket
Extra porter
Travel insurance
Tips for Guide and porters
Small bag/daily pack
Noted : (*) is required.
Guest Details